To visit Japan without visiting the countries capital city would truly be a sin. Tokyo is pure madness and often a culture shock to most who first visit it. However, it's not madness like you'd find walking walking down Wall Street in NY between the hours of 7am – 6pm!
Tokyo is both eclectic and refined at the same time. It's like no other city in the world, steeped in culture, yet one of the few places in Japan where you won't really find much in the way of the traditional Japanese architecture that's scattered everywhere else across the country.
What sets the city apart from all others on earth? The people! The most densely populated city on the planet manages to also be the absolute most friendly city in the world. Not an easy feat considering tempers and bad attitudes seem to flourish when you pack more than 120-million human beings into a landmass equivalent in scale to the size of a sardine can!
If you don't like being surrounded by tens of the thousands of people wherever you go, the world's most heavily populated city might not make for a best first stop. Go there, but perhaps get yourself acquainted with Japanese culture in a more tame, meditative, less-busy place like Kamakura, which is just a hour long drive from the capital. Most flights to Japan land in Tokyo, but it isn't hard to jump on a train straight out of the city to let yourself acclimatize first.
Here are 3 sites I'd like to recommend for your next Tokyo visit.
You'll see many cool, strange, and downright bizarre goings-on at each location:
Shibuya Crossing
Prepare to be transported to another universe when you visit this crossing and the areas surrounding Shibuya Station. It's the unofficial fashion district for the city, with some of the most colorful, never before seen outfits you'll ever see. Poofy, lace and feather-adorned outfits, along with women wearing strange contact lenses that enlarge their eyes are just the icing on the cake for those who like culture shock!
There are more people spilling in and out of this small, highly modernized area of Tokyo than anywhere else in the city. It's really dizzying. This place isn't for the socially awkward. One unique feature at Shibuya is the polite nature of everyone walking about. Everyone walks in almost choreographed cadence to those walking in front of them. There's no pushy attitudes present like you'll find on the busiest streets of NYC or Delhi.
(click image to enlarge)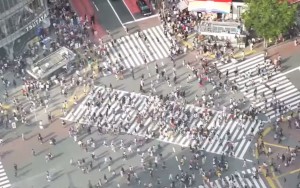 Yoyogi Park
Yoyogi Park is a great place to sit back and chill, particularly on Sundays. The park is filled with "Tokyoans" from all walks of life, including the homeless, traditional Geishas, Lolitas, socialites, business people, and performance artists of all kinds. Though this scenic park is generally packed with people, most of you won't feel claustrophobic with all the activities going on. Pretty much anything goes in Yoyogi Park, you can drink your wine or beer, sprawl out on a picnic blanket and be entertained with free song, plays, dances, and other quirky shows.
One interesting thing I noted at the park during my last visit was the ratio of bare faces to those adorned with a surgical mask. My friend Dave explained that while the Japanese started wearing the masks in public to prevent catching and spreading disease, there are now many different reasons people (mostly females) wear them, ranging from the antisocial to the desire to accentuate their beauty (?) The park has far more surgical-mask-wearing Japanese women than any of the city's busiest streets and subways.
(click image to enlarge)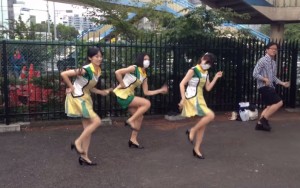 Cat Cafe
I'll admit that this is one of the more strange Tokyo destinations, and certainly not for the cat-haters of the world! I decided to include this recommendation in the list simply because they're unique to Asia, and Tokyo has some of the cleanest and most refined you'll find anywhere. Though this strange business concept is cropping up all over the globe now. You can sit down and order a drink, read a book or comic, chat with a friend—all while being surrounded by an array of different felines!
The cats are literally the attraction, and you'll pay for it!
I went to a popular cat cafe (name escapes me) in Ikebukuro, and the fee was ~$9 American an hour (900 yen). I personally didn't stay very long and opted for a 10-minute rate which was something like $2 American. For a cat lover, any of the estimated 150 cat cafes throughout Tokyo alone would surely be a treat. I found the experience quite odd — like going to a zoo with only one species of animal! You can buy food for the cats, try to entice them with toys, and talk to them like you would your own cats at home.
Many will have their own set of strict rules about handling and/or annoying the precious cats, so read the fine print!
(Click image to enlarge)