Travel blogs can inspire, inform and transform. These are my top 5 current blogs to follow. Some you may have seen mentioned elsewhere, others might be completely new to you.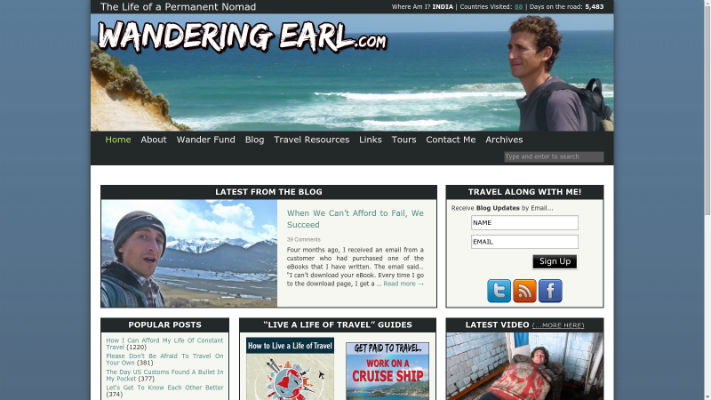 A huge proponent of the nomadic world traveler lifestyle. Nomadic Earl also has his own YouTube channel where he shares tips and travel outtakes. As you can imagine, just like the others on this list, Derek Earl Baron offers tons of tips related to saving money, best times to travel, best countries to visit, etc. The best thing about this blog is how he engages with his readers. He brings a certain comedy flair that many of the others do not. He's traveled since 1999, but isn't afraid to tell his followers how confused he still is about life and frequently posts about the everyday occurrences that throw a wrench into his travel itinerary including posts like "The Day US Customs Found a Bullet in my Pocket." Awesome blog. Definitely my fave.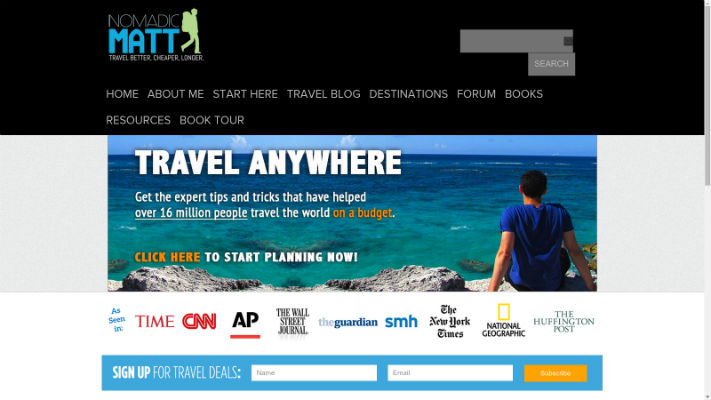 Nomadic Matt's travel site is one of the most popular in the world.  Matt's been travelling and blogging longer than most others; in fact, he's one of the original travel bloggers out there. Matt's main goal with his site is to provide budget travel advice and tips that will allow his readers to travel on the cheap. He's been there and done that on virtually every continent and offers tips about everything related to the backpacker and world traveler lifestyle. His is one of the very first travel blogs to ever hit the net and by far one of the most popular.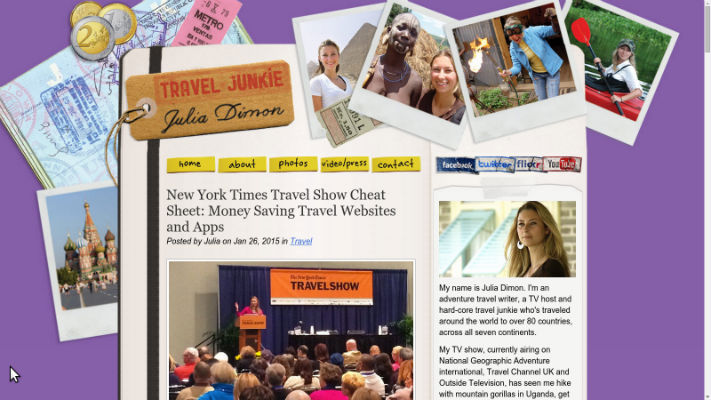 I've been following Julia ever since I first saw her debut travel show "Word Travels" back in 2007. She's traveled to over 80 countries and is a foremost expert that can be found on television and in print giving tips and advice on the likes of: CNN, ABC Nightline, New York Times, Travel & Leisure, Forbes Traveler, MSNBC, E! News, Outside Magazine, Chicago Tribune, Budget Travel — just to name a few! Her blog features her own special brand of tips including destination suggestions, out-takes and photos from her own domestic and world travel excursions, tips about saving money, trending travel tech and much more.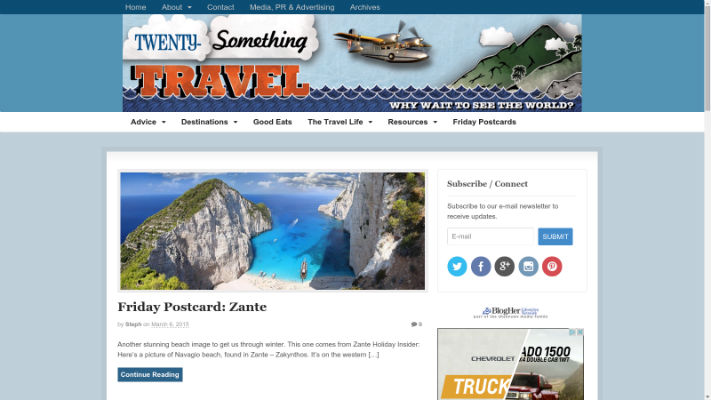 Stephanie's Twenty Something travel is one of the most followed travel blogs. Her emphasis on travel for those in their twenties is a very lucrative niche. She's become one of the highest ranking top travel blogs through her excellent writing skills and experience abroad. She delves into virtually every topic that my top 3 does, but the content is more catered toward, well — 20 somethings who travel alone from country to country. Everything from destinations that work best for her age group, travel tips for younger people, studying abroad, picking up jobs on the road, what to eat and drink in different locales. One of her most popular posts are "Friday Postcards" where she tells her followers just where in the world she is on that day and what she's doing/planning in the coming days. Whether you're young or old, this blog is worth the bookmark!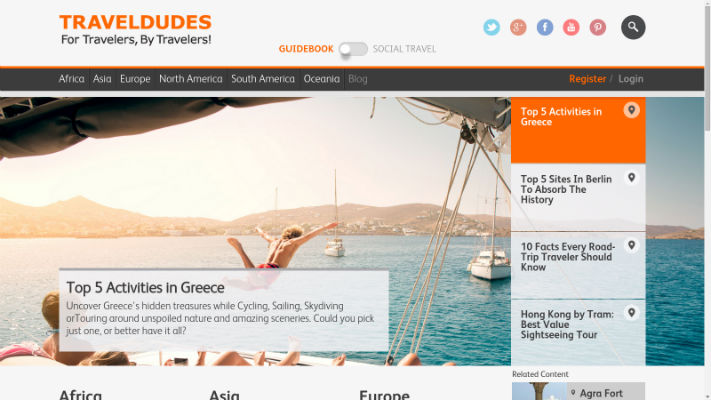 Melvin Boecher maintains this site which is quite honestly, one of the most comprehensive destination sites I've ever seen! The navigation on the front page of the site allows you to filter based on continent, country and then further narrow down to specific locales within each country in order to find specific blogposts related to your area of interest. The blog is regularly updated and delves into everything from tips about where to find the best and/or cheapest accommodations around the world, posts about travel experiences from other expert travelers, and even posts about things you might not see posted elsewhere like "How to Survive Being Fired Abroad." Great blog and definitely deserving of being in this, or any other top 5 travel blog list. The thing that sets this one apart is that it isn't about one person and their friend's experiences traveling. Travel Dudes features content from hundreds of travelers from all over.