Airports suck don't they?
I like their purpose; to get me the heck out of the every day and somewhere new and exciting in the world. Hopefully somewhere I've never been…
However, they're a real "PIA" when it comes to trying to save as much time as possible, follow all the rules, avoid spending money you don't have to, and otherwise dealing with all the TSA crap that continues to evolve more toward the complicated than the simple for most of us air travelers (hey, it's for our own good, but still…)
Here's 10 airport hacks to get you where you're going, with as little time and money lost before and after you take off:
10) Take the Red-Eye
Why spend an extra night in the hotel, or suffer through the worry of whether or not there'll be a traffic jam in the morning (or gasp, you miss your alarm!), when you can just hop on a late-night flight that'll have you where you want to go first thing in the morning? You won't necessarily save money on your fare, but you can avoid the hassle of a much busier airport during daylight hours when trying to board a flight, and maybe save a hundred or two on an extra hotel stay if you're just heading home anyhow.
9) Wear Your Heavy Clothing to Avoid Carry-on and Oversized Baggage Fees
We've all been there, especially if you're coming from — or going to — a colder climate. Heavy parkas, sweaters, pants, boots, etc. Even heavy jewelry if this applies to you. Wear as much of it as you can while boarding, then jump in the bathroom once you're on and change everything out. These kind of items can swell your luggage or carry-on baggage and cost you tens of dollars extra you don't need to spend. Consider draping large sweaters and coats over your arm while you go through TSA or customs, to avoid having to strip everything down and hold up the line.
8) BYOB (
Booze

, not likely beer!)

As long as you can fit it into a one-quart (20cm x 20cm) Ziploc bag, you can bring as many little bottles as'll fit, or one "large" smaller bottle like the one pictured, with you.
7) Don't Be Afraid to Ask for
Free

Things

In life in general, we don't often get what we don't ask for (except in restaurants with terrible service levels, am I right?) Ask for a free upgrade on your birthday or anniversary. While it's not policy, a good airline staffer might take advantage of a last minute first-class cancellation to put a smile on your face. Heck, ask for an extra bag of peanuts or an additional dessert if you're still hungry. Just don't be afraid to ask — expect a (polite) "no" and don't sweat it if they refuse.
6) At the Security Checkpoint: Proceed Left…
Because most of us are right-handed, research shows a not-too-surprising inclination for the majority to go to the right side lineup at security. Take this one for what it's worth, it won't help all the time. If you're traveling in-country frequently, you might want to sign up for a service like Clear (not affiliate link) that gets you through the lineups and straight to the screening area.
5) Avoid Aggravation and Carry a Battery Backup
It's ridiculous just how frantic we all are with our phones and tablets. Nowhere is this more apparent than when you find yourself with dead battery and phone calls to make or research to be done online while waiting to board, and there isn't a free port anywhere to charge it. Battery backups are really cheap. I've found them for $5 and even less at times. You get what you pay for, but you'll still get several charges out of a cheapy before it craps out.
4) Always Have Your Own Water Bottle Handy
Just keep one in your bag in case you get thirsty while you wait. I have yet to meet a person who didn't have some steel or plastic freebie reusable bottle they got for signing up at a gym, or given to them by some charity for making a donation or whatever. If you really want to save on space, grab a collapsible bottle — you can find them at pretty much any retailer and they're located in the same place reusable sports bottles are.
3) Sign Up For TSA Precheck or Global Entry Pass
Just check out the site and see if you're eligible for precheck or global entry. For the most part, you can't have a criminal record and need to have a KTN (Known Traveler Number).
2) Keep Your Unused Hotel Toiletries
They're the perfect compact size for carrying liquids on your next flight.
1) Know Your 3-1-1
The TSA has a 3-1-1 liquids rule and you are only allowed to have one, single quart-sized clear plastic bag for carry-ons. Knowing this rule can save you lots of hassle and potential added fees.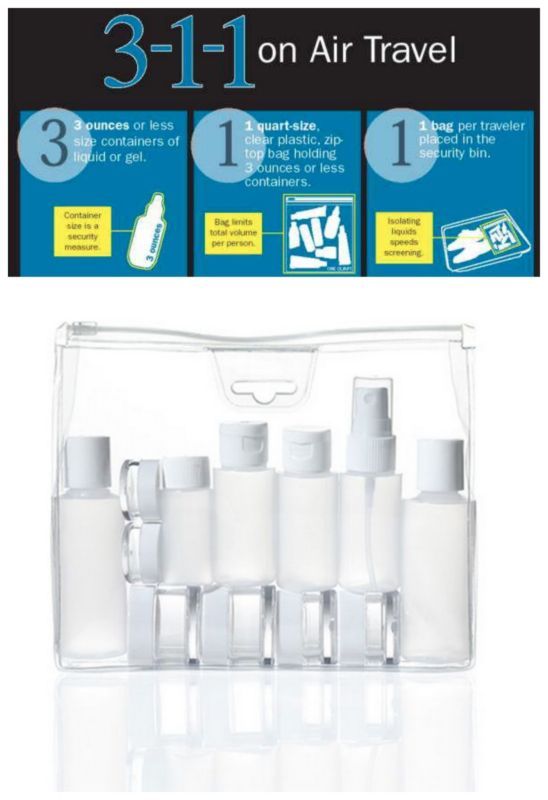 Main image by Beat Küng