Travel isn't cheap. It isn't as expensive as some make it out to be, but there are plenty of budget faux-pas that can really stick a needle into your plans.
Here are a few tips to consider before planning your next excursion:
1. Consider Entry Fees Before Planning Your Itinerary
You'll sure wish you had if you're planning to visit countries like Argentina $160 "Reciprocity Fee" in advance to gain entry to the country. It would really suck to get all psyched up about how they're holding the world football or rugby championships at La Plata, only to have your budget derailed by costly entry or port fees.
If you haven't did very much international travel, be forewarned that many South American countries have crippling fees, adding hundreds to an already expensive trip.
Truly, this is a big whopping travel racket. We are, after all, helping to stimulate whatever local economy exists in the areas we travel to. But it's a racket you have to be onboard with, and visa/entry requirements should always be the first order of business before planning a trip.
Protip:
Make sure you have at least enough currency to cover your entry fee at the airport or cruise ship ports you visit. They all love American dollars and British pounds, but you won't catch any customs official admitting to that. They are the worst offenders when it comes to robbing you of cash via inflated exchange rates or exchange rate fees. What are you going to do? You can't pass through the gate until you're legal. You're not going to turn around and head home either.
2. Compare Apples to Apples: Consider Your Baggage Needs Ahead of Time
I can count the times I've been hampered down with ridiculous baggage fees on one hand. Why? Because I've smartly learned that the cheapest flight — across the world or across the country — can turn nightmarishly expensive because of baggage costs incurred at flight time. This is a smart move on the part of airlines, whether they be discount providers or otherwise. I, and other seasoned travelers call this the "Baggage Racket".
And it's a racket of mobster-esque proportions.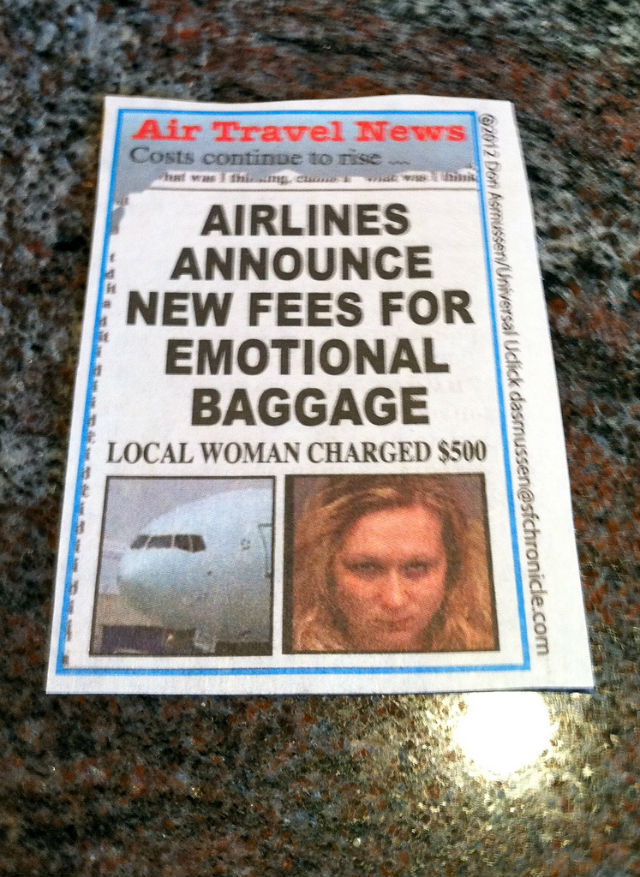 Once you get to the airport, you're stuck. Are you going to really going to become one of those postal types from the A&E series "
Airline
"? Screaming and kicking up a storm, when you're on your way to that vacation to Italy or Greece you've been planning for the better part of two years? Probably not. Particularly if you don't want the TSA putting your keister on a blacklist of some sort (yeah, they have them!) No, you're going to pay the exorbitant fees and mutter how you'll take your money elsewhere next time as you begrudgingly pay whatever they tell you to.
Brittany Dietz, Editor at CheapFlights.com recommends this:
"Before you plan a trip, you should think, 'what am I bringing for luggage?' So, you are comparing apples to apples."
That way you're factoring in the entire cost and not just the cheap flight price. You wouldn't buy a cheap Ferrari without checking with your insurance company to see how much it's really going to cost you to drive it, would you?
You can also score significant discounts when you pre-check your bag at the time of the ticket purchase, provided you can stay within the airlines checked baggage weight requirements to avoid overweight charges.
3. Off-Season Deals Save You Big Time
The off-season, sometimes called the "Shoulder Season" is one of the best times to travel if you're planning to rent a car or hop a cruise ship and drive anywhere its warm in the winter, like SoCal, Florida, or Mexico. Can't speak for whether Texas makes the cut with car rental companies. Who the heck wants to drive when you get to Texas, am I right?
Traveling off-season means big dollars that can be added back into your travel budget for fun stuff, or so you can eat out at those swanky 4-star restaurants that typically would be avoided because of their costs.
The shoulder season runs from Nov-Dec every year. Look for "One Way" or "Snowbird" deals when renting a car online. Most local travel agents can help you score these deals to. In warmer seasons, you actually get charged more if you plan to drop the car at another rental agency's location far away. If you act as their Snowbird, they essentially pay you to move their cars to warmer climates where they'll get used more.
In the cruise industry, they offer Cruises departing from the frigid wild of Alaska to the Caribbean for cheap. Known as "Repositioning Cruises" you won't have any trouble finding out about these deals on any of the major cruise line's websites. Many Repositioning Cruises depart from ports all over Europe heading to the Caribbean at this time too. Check out UpTourist's Tours and Activities Finder to book a Repositioning Cruise today.
Please Share and Like
If you found this content valuable, take a second or two to share this with your friends using the social media buttons provided.
Happy, safe and cheap travels everyone!
Main Image Credit: mroach/Flickr